PART TWO: 1950-1979
A new era of international competition was ushered in, with Wembley welcoming teams and sportspeople from across the world.
Argentina were the first overseas' football visitors in 1951, and a decade on came arguably the stadium's finest moment: England winning the men's 1966 World Cup.
Three years earlier, a heavyweight boxing clash saw the great Muhammad Ali (then Cassius Clay) beat the much-loved Brit, Henry Cooper.
And the USA again took centre stage in the 1970s when Jerry Lee Lewis, Little Richard and Chuck Berry all performed at the stadium in the London Rock and Roll Show.
Wembley's name as a premier live music venue was growing fast.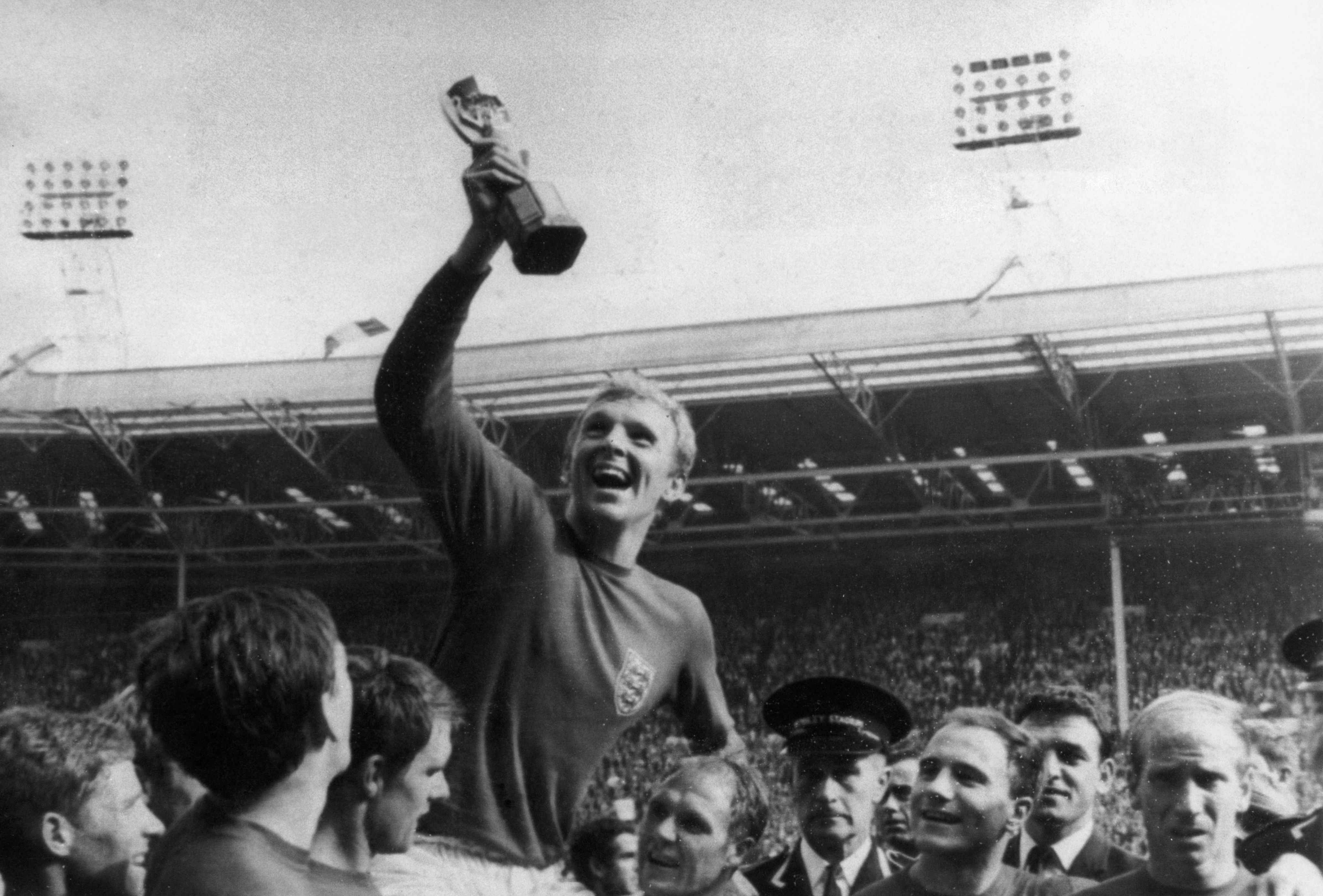 Photography from the Getty Images archive © getty images.
1950 - SCHOOL'S IN
The first schoolboy international is played at Wembley. England 8-2 Scotland.
1951: WOMEN'S HOCKEY
Women's hockey makes its first Wembley appearance – England beat Ireland 6-1.
1951: FROM OVERSEAS
In the same year, Argentina become the first overseas' visitors to Wembley for a full England men's England international.
1951: FIRST SPOT-KICK
A 31-year-old Alf Ramsey becomes the first player to score a penalty for England at Wembley. His 65th-minute successful spot-kick earns a 2-2 draw with Austria.
1953: MATTHEWS' FINAL
Stanley Matthews' finally wins a FA Cup winners' medal as Blackpool beat Bolton Wanderers 4-3. It becomes known as the 'Matthews' final.
1953: HOME DEFEAT
Excluding the home nations and Republic of Ireland, England's men suffer their first home defeat at Wembley to foreign opposition – 6-3 to Hungary, the 'Mighty Magyars', then ranked the world's no.1 team.
1954: NATIONAL HAT-TRICK
Roy Bentley becomes the first player to score a hat-trick for England at Wembley. He nets all three as England beat Wales 3-2.
1954: GRAHAM GATHERING
American evangelist Billy Graham attracts 120,000 to the stadium – the biggest attendance since the 1923 FA Cup Final.
1955: LET THERE BE LIGHT
Floodlights are installed and the stadium starts hosting midweek evening football matches. The first floodlit England game is a 4-1 win over Spain.
1956: NECK-BREAKER
The FA Cup Final between Manchester City and Birmingham City is remembered for 'City's 'keeper Bert Trautmann playing the last 17 minutes with a broken neck! Bert's on the winning side though as 'City win 3-1.
1957: QUALIFIER FIRST
Wembley witnesses its first World Cup Qualifier goal when centre-forward Tommy Taylor (pictured right) nets in the eighth minute against the Republic of Ireland in a 5-1 England win. Tragically, Tommy loses his life in the Munich Air Disaster the following year.
1958: GAELIC GAMES
Traditional Irish sports, Gaelic football and hurling, come to Wembley for an annual event that continues to 1976.
1959: BILLY'S CENTURY
Billy Wright becomes the first England men's player to win 100 caps when he skippers the side to a 1-0 win over Scotland.
1959: 10-MAN FOREST WIN
Before substitutes were allowed, Nottingham Forest become the first 10-man team to win the FA Cup Final. They beat Luton Town 2-1. Forest's opening goal is scored by Roy Dwight after 10 mins, who sadly breaks his leg 20 mins later. His other claim to fame – he's a certain Sir Elton John's cousin.
1959: PENALTY HERO
24-year-old debutant Ron Springett becomes the first England goalkeeper to save a penalty at Wembley. His save is crucial in a 2-1 win over Northern Ireland.
1961: SKI-JUMPING
One of Wembley's most bizarre events is staged – two nights of ski-jumping amidst artificial snow.
1961: SPURS CLINCH DOUBLE
Tottenham Hotspur beat Leicester City 2-0 in The FA Cup Final to clinch the first League and Cup 'Double' of the 20th century.
1963: UNDER COVER
The centenary of The FA and a new roof is installed.
1963: EUROPEAN FIRST
Wembley hosts its first European Cup – now Champions League – Final. Italy's Milan (now AC Milan) beat Portugal's Benfica 2-1 in front of a 45,717 crowd.
1963: CLAY DOWNS COOPER
The great heavyweight boxer Cassius Clay (later Muhammad Ali) predicts he will stop British hero Henry Cooper in the fifth round at Wembley. He does.
1965: HAMMERS' HIGH
West Ham United become the first British team to win a European trophy at the stadium. They beat TSV Munich 2-0 in the final of the Cup Winners' Cup.
1966: WORLD CHAMPIONS!
England men's team play all their games at Wembley en route to winning the Jules Rimet trophy. England are world champions.
1967: LEAGUE CUP DEBUT
The Football League Cup (now Carabao Cup) Final is played at Wembley for the first time. Queen's Park Rangers beat West Bromwich Albion 3-2.
1967: 'COCKNEY' CUP FINAL
Wembley hosts the first all-London FA Cup Final, with Tottenham Hotspur beating Chelsea 2-1.
1968: UNITED TOP EUROPE
Manchester United lift Europe's premier trophy – the European Cup – beating Benfica 4-1 after extra time.
1968: IN FULL COLOUR
West Bromwich Albion's Dennis Clarke becomes the first substitute to be used in a Wembley FA Cup Final. It's also the first final to broadcast on TV in colour. Albion beat Everton 1-0 thanks to a Jeff Astle goal.
1969: YES TO ROCK
Wembley's first music concert sees progressive rock band Yes take to the stage – their only Wembley appearance. But Wembley's status as a music venue really gets going three years later when the multi-act London Rock 'n' Roll Show comes to town.
1970: LET'S DO IT AGAIN
For the first time, a Wembley FA Cup Final goes to replay after extra time, when Chelsea and Leeds United draw 2-2. Chelsea win the replay 2-1, again after extra time, at Old Trafford.
1973: JIM'S GREATEST SAVE
Arguably the greatest save in a Wembley FA Cup Final is made by Sunderland 'keeper Jim Montgomery. His incredible double save preserves the Black Cats 1-0 lead and sees the second-tier side through to a 1-0 win over overwhelming favourites Leeds United.
1974: CHARITY COMES HOME
The FA Charity (now Community) Shield gets a new lease of life when Wembley starts to stage the annual match between the top-flight league and FA Cup winners. Two stock-car race meetings are also held.
1975: ONE GIANT LEAP
The stadium sees motorcycle stunt rider Evel Knievel attempt to jump a world record 13 London buses. 90,000 spectators gasp as he clips the last one and crashes spectacularly, fracturing his spine.
1978: VIV'S GREAT MOMENT
Viv Anderson becomes the first Black player to receive a full international cap for England. He wears the no.2 shirt in a 1-0 win over Czechoslovakia.
1979: FOUR-MINUTE FINALE
In the 'Four-minute Final', Arsenal win The FA Cup, beating Manchester United 3-2 after three goals are scored in a frantic last four minutes.