PART THREE: 1980-1999
In a time of political and social change, Wembley found itself at the centre of more era-defining moments.
In 1988, the stadium played host to a multi-act concert advocating the release of imprisoned anti-apartheid activist Nelson Mandela, who took to the Wembley stage upon his release two years later.
In the sports world, 1982 saw Luther Blissett became the first Black player to score for England, and the '90s saw the first women's match at the stadium.
As the 20th century drew to a close, Paul Ince became the first Black player to captain England, in a 2-0 win over Mexico in 1997.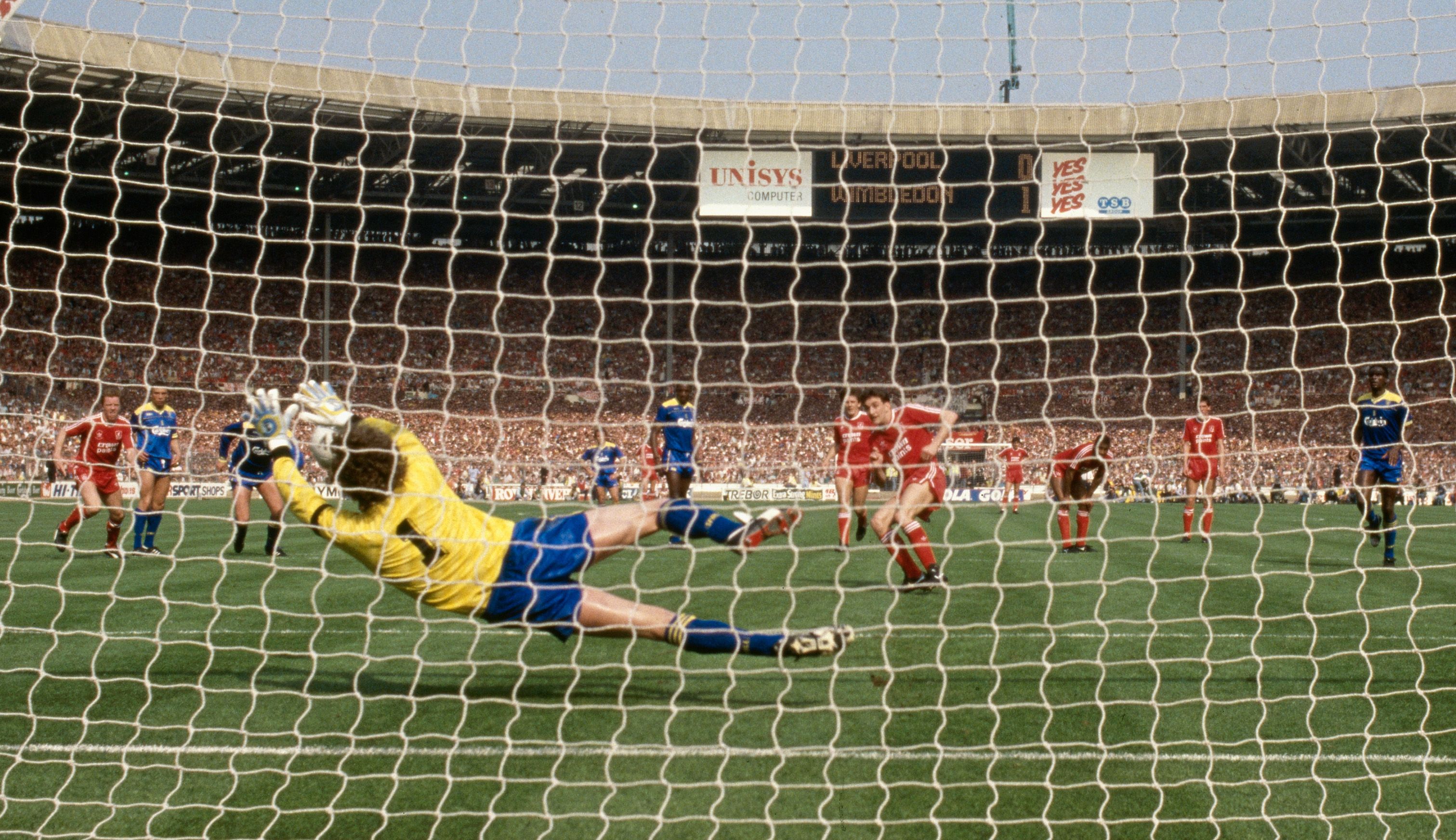 Photography from the Getty Images archive © getty images.
1981: 100 YEARS WITH THE FA CUP
The FA Cup is 100 years old and Wembley hosts the centenary final. Tottenham Hotspur and Manchester City draw one apiece, but the replay – also at Wembley – sees Spurs win 3-2.
1982: WEMBLEY WELCOMES POPE
Head of the Catholic church Pope John Paul II celebrates Mass at Wembley in front of a congregation of 100,000.
1982: HISTORIC TRIPLE
Luther Blissett achieves a triple at Wembley, as England beat Luxembourg 9-0. He's the first Black player to score for England, it's his debut and he goes on to net a hat-trick.
1984: SPONSORSHIP DEBUTS
The first FA Cup Final where sponsors' names appear on shirts. Everton = Hafnia and Watford = Iveco. Everton win 2-0.
1985: LIVE AID UNITES
70,000 fans witness multi-act Live Aid concert. Alongside the other Live Aid stage at Philadelphia's JFK Stadium, the concert is broadcast live to more than one billion people across 110 countries and raises over £30 million.
1986: ALL-MERSEYSIDE FINAL
The first all-Merseyside Final sees Liverpool win The FA Cup for the third time as they defeat Everton 3-1.
1986: QUEEN TRIUMPH
Queen rock Wembley for the second time in two years. The show featured the largest lighting rig for a Wembley live show, weighing nine-and-a-half tons. The stage was also the largest one to that point in the stadium's history.
1986: BRUNO FALLS
Wembley's first world title boxing bout. The white towel is thrown in during the 11th round of 15 as home heavyweight Frank Bruno is stopped by the WBA heavyweight champion Tim Witherspoon of the USA.
1987: WHO'S THAT GIRL?
Madonna performs the first of three sold-out Who's That Girl world tour concerts, with 216,000 attending across the three nights.
1987: WOMEN'S DEBUT
The first women's match to be played at the stadium. The Millwall Lionesses lose out to US visitors Southern Cardinals (from Cincinnati) as part of the London International Youth Festival.
1988: 10-HOUR CONCERT
A huge 10-hour concert celebrates the 70th birthday of South African anti-apartheid leader Nelson Mandela, imprisoned for 27 years. The concert helps pave the way for his release two years later.
1988: CRAZY GANG'S CUP SHOCK
Wimbledon's Dave Beasant becomes the first goalkeeper to save a penalty in an FA Cup Final at Wembley. His side go on to beat heavy favourites Liverpool 1-0.
1990: HISTORIC SPEECH
Nelson Mandela is released and comes to Wembley to make his first public speech to a worldwide audience as part of a concert in his honour.
1990: PROMOTION DENIED
The first Football League play-off final to be staged at Wembley. Swindon Town beat Sunderland 2-1, but it's Sunderland who are promoted to the old First Division, after Swindon are found guilty of financial irregularities.
1992: MERCURY MEMORIES
In April, rock greats join forces for the Freddie Mercury Tribute Concert for AIDS Awareness – remembering the Queen front man who died from the condition the previous year.
The Freddie Mercury Tribute concert had around 72,000 attendees.
1995: AUSSIES' WORLD CUP TRIUMPH
Wembley stages the Rugby League World Cup Final – Australia beat England 16-8. It's also rugby league's 100th birthday.
1995: BRUNO CLAIMS WORLD TITLE
The year also sees British heavyweight Frank Bruno finally claims a world title after three failed attempts. He beats WBC champion Oliver McCall on points on a chilly September evening.
1996: FOOTBALL ALMOST COMES HOME
England hosts the European Football Championships. England play their games at Wembley and get to the semi-finals, only to lose agonisingly to Germany on penalties.
1997: INCE MAKES HISTORY
Midfielder Paul Ince becomes the first Black player to captain England at Wembley when he leads out the national team v Mexico. England win 2-0.
1998: SPICE GIRLS
The Spice Girls bring their Spice World Tour to Wembley Stadium, performing to 150,000 fans over two nights.